Our team comprises landscaper designers and property maintenance experts
BOP Landscapers provides full creative landscaping solutions for residential and commercial projects in Tauranga and the greater Bay of Plenty region – with co-founders Doug & Donna Williams leading each project.  Doug draws on his years of practical knowledge and the skills he learned while undertaking his certification in Hort, Landscaping & Amenity Horticulture.
Once the plan is ready to go, we are available to implement the plan (or we can implement the plan you have received from another designer).  We are also available for those practical home maintenance jobs that need energy, enthusiasm and expertise.
Doug & Donna pride themselves on having each and every project done smoothly, easily and cost effectively.
Meet Doug
Doug is an 'earthy', quiet, friendly guy and a family man with his wife and three boys.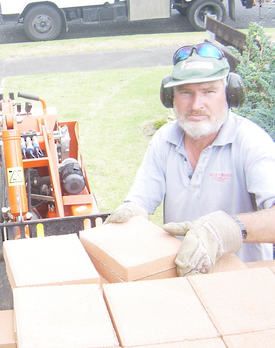 He is inspired to be working outdoors and contracting to clients to help create a garden, a fence, a feature and environments that his clients can feel proud of and enjoy spending time in.
Doug started his working life working in forestry and then moved into management within the supermarket industry.
After nine years in that industry, Doug decided it was time for a change and for fulfilling his desire to work outdoors. He wanted to be self-employed and as a young Dad new to the Bay of Plenty, he took the opportunity and started nulife Landscaping. He is proud of his work and the knowledge he brings to his clients.
He enjoys every aspect of his business and welcomes any calls from people wanting to ask questions and find out about BOP Landscaping. If you have a lump of dirt you want to turn into your very own gorgeous oasis to share with your family and friends, Doug will bring practical, honest skills and knowledge to you. BOP Landscaping has been operating in the Bay of Plenty for 20 plus years and has built experience in new home development with well-known building companies such as Key Homes, Jennian Homes, and David Reid Homes.
Certified Growsafe Sprayer - what does this mean?
GROWSAFE is the brand of the New Zealand Agrichemical Education Trust. NZAET is a non-profit organisation formed in 1992 to promote the safe, responsible and effective use of agrichemicals.
NZAET was formed by the primary producer groups and aims to develop and maintain good practice standards of agrichemical use.  The Trust's Mission Statement is : "To facilitate the approved and safe use of agrichemicals in NZ consistent with effective sustainable land management and environmental protection through advocacy and education."
NZS8409:2004
In conjunction with Standards New Zealand, the Trust has published NZS8409:2004 Management of Agrichemicals.  The Standard is the base reference resource for agrichemical users and suppliers.  It underpins all GROWSAFE training programmes.
The Standard is approved by the Environmental Protection Agency (EPA) as a Code of Practice under the provisions of the Hazardous Substances and New Organisms (HSNO) Act 1996.  The Standard is also approved by the Agriculture Compounds and Veterinary Medicines Group at the NZ Food Safety Authority under section 28 of the ACVM Act 1997.
Extended Team
Having been a part of the landscaping scene in the Bay of Plenty for many years now, we know who to call on when a specialist job is required.
All of our partner companies are the 'good guys' of the trade – they are trustworthy and reliable and committed to helping us get the job done on time and on budget.
Quite frankly, we couldn't do it without these guys...